dr. conchita l. manabat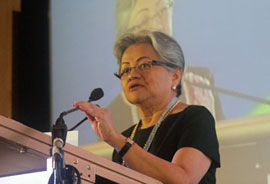 A Certified Public Accountant (CPA), holder of MBA and Ph.D degrees and participant in executive programs, Dr. Conchita L. Manabat studied at the University of the Philippines, the Ateneo de Manila University, the Southeast Asia Interdisciplinary Development Institute, the Harvard Business School and Pennsylvania State University. Cited as an outstanding alumnus of College of Business Administration of the University of the Philippines, prominent alumnus of the Ateneo Graduate School of Business,
Making it to the Big 4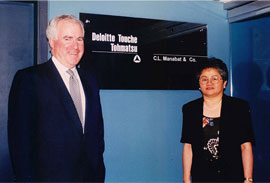 NEWSFLASH! "C. L. Manabat & Co. landed within the coveted circle of the "Big Four" in just five years." Can anyone believe this phenomenon? How did it happen? How could any firm with such humble beginnings, an unassuming entrant in the industry developed so fast and so on course? Does anyone wonder at this meteoric rise? Is there any lesson to be learned from this phenomenon? What was it like at the point of time when the choice "TO BE" was made?
Articles
Building Networks for Finance Professionals
Business networking has emerged as one of the 'must have' soft skills necessary for finance professionals to succeed in the competitive marketplace of today.
Shaping a Prosperous Future
"You can either be in the fast world, or in the slow world", predicted Pulitzer Prize winning journalist, Thomas Friedman. In his insightful book 'The Lexus and the Olive Tree', Friedman observed that the world is "increasingly experiencing three democratizations:
Corporate Sustainability & Leadership
"As organizations become infused with value, they are no longer regarded as expendable tools; they develop a concern for self-maintenance.