dr. conchita l. manabat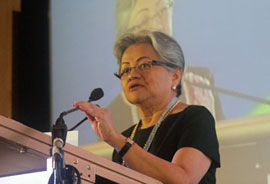 A Certified Public Accountant (CPA), holder of MBA and Ph.D degrees and participant in executive programs, Dr. Conchita L. Manabat studied at the University of the Philippines, the Ateneo de Manila University, the Southeast Asia Interdisciplinary Development Institute, the Harvard Business School and Pennsylvania State University. She is a Fellow of the Institute of Corporate Directors.
She is an independent director of the companies belonging to the Philippine Dealing System to include – Philippine Dealing Systems Holdings Corp. (PDSHC), Philippine Dealing & Exchange Corp. (PDEx), Philippine Depository & Trust Corp. (PDTC), Philippine Securities Settlement Corp. (PSSC),
Making it to the Big 4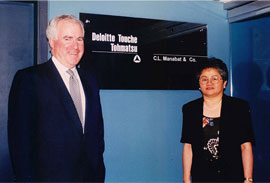 NEWSFLASH! "C. L. Manabat & Co. landed within the coveted circle of the "Big Four" in just five years." Can anyone believe this phenomenon? How did it happen? How could any firm with such humble beginnings, an unassuming entrant in the industry developed so fast and so on course? Does anyone wonder at this meteoric rise? Is there any lesson to be learned from this phenomenon? What was it like at the point of time when the choice "TO BE" was made?
The "Prequel" To CLMC: the LMSC Years
After a few years of establishing Laya Manabat Salgado & Co. (LMSC), Conchita found herself at the helm of the practice assuming the role of Executive Partner of the firm.
Articles
In the Midst of Changes
An organizational development consultant says, "The winds of change are life generating opportunities but the waves of development invariably require order and stability.
In Pursuit of Quality Audit
Many may still recall the Enron accounting scandal and how it precipitated the significant changes in the accounting and auditing landscape.
XBRL & the Future of Financial Reporting
In the last meeting of the International Auditing & Assurance Standards Board (IAASB) Consultative Group (CAG) and the International Ethics Standards Board for Accountants (IESBA) CAG at the Public Interest Oversight Board (PIOB) offices in Madrid, Spain on September 11-13, 2017